Digital Signature Certificate - How DSC Works
Nowadays, when everything is authenticated online, Digital Signature Certificate (DSC) is another way of verifying the identity of the document holder. We all know how to sign documents physically, and it is required everywhere from opening a bank account to enrolling in some colleges. We are required to sign the documents in order to verify our identity.

Nowadays, with everything moving online, it's more important than ever to be able to validate your identity. Whether it's for online activities like shopping, banking, or social media, or computer-based work, you need a way to prove that you are who you say you are.

That's where a Digital Signature Certificate (DSC) comes in handy. It's a secure way to authenticate your identity online, so you can conduct transactions with confidence.
What is Digital Signature Certificate (DSC)?
A Digital Signature Certificate (DSC) is nothing but a signature in an electronic format, which is similar to a physical signature. It is used for different types of online transactions. A Digital Signature Certificate (DSC) is a protected digital key that is issued to validate the identity of the certificate holder by recognizing certifying authorities (CAs). It includes the name of the individual, the digital signature, the date of issuance of the certificate, the expiry date, and the name of the CA.
How Digital Signature Works ?
A digital signature is like a handwritten signature that is unique to each signer. It works by ensuring that documents that have been digitally signed have not been tampered with or altered by any other third-party user, intentionally or unintentionally.

When a signer signs a document electronically, the signature is created using the private key of the signer, which is always kept by the signer securely. The mathematical algorithm creates, and encrypts data that matches the signed document, called a hash, acting like a cipher.

The digital signature is the resulting encrypted data. The signature is also marked with the signing time of the document. The digital signature certificate (DSC) is invalidated if the document changes after signing.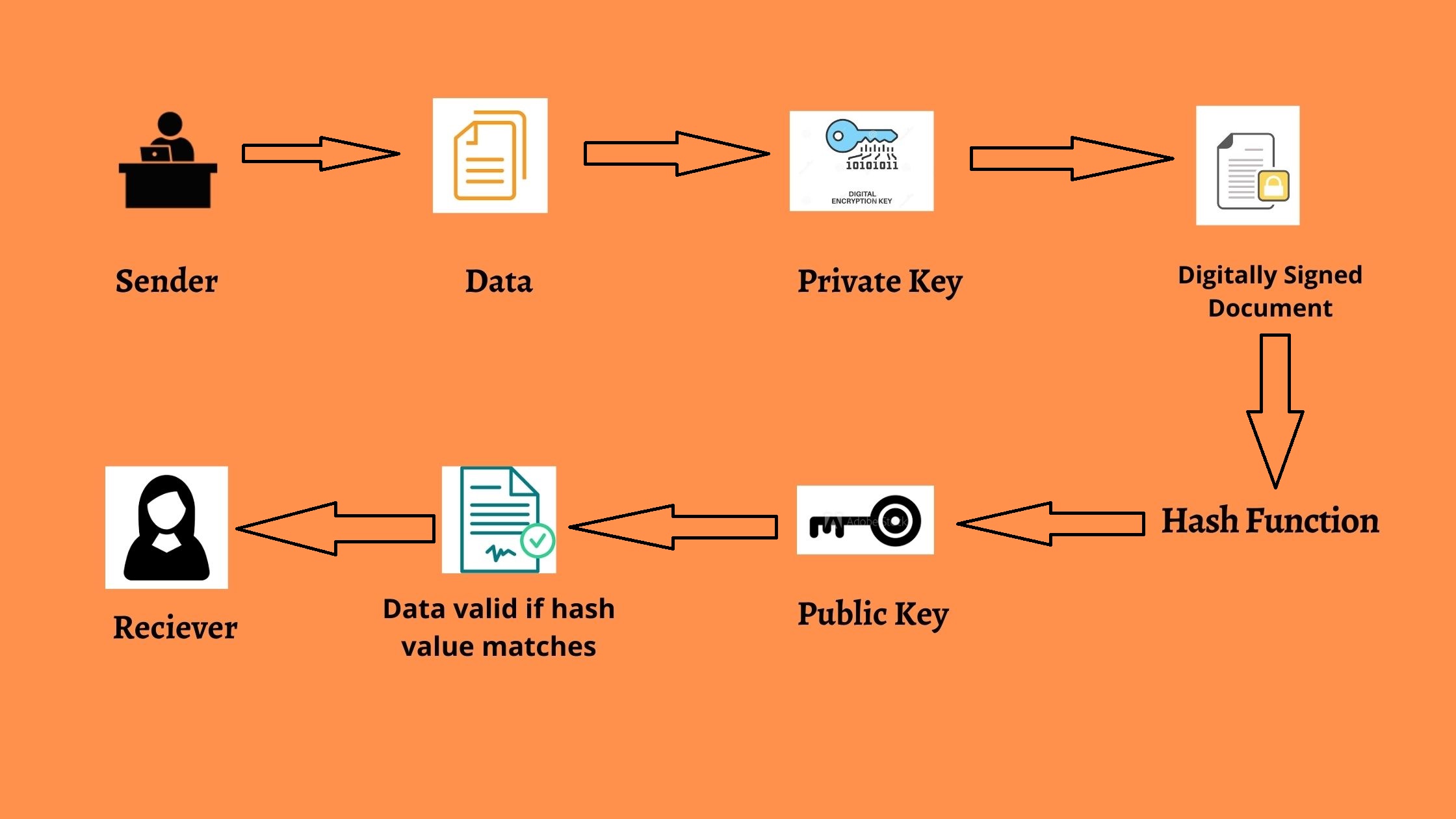 Here Is The Process How A DSC Works
Benefits of Digital Signature Certificate (DSC)
Low Cost - You can digitally sign the documents instead of signing the hard copy, which saves the cost on paper, ink, and scanning the documents to send them via email.

The Digital Signature Certificate (DSC) holder does not need to be physically present to conduct or authorize a business, and the Digital Signature Certificate (DSC) can be used for business purposes such as signing contracts and documents electronically.


Authentication: Personal information authentication is essential for the prevention of fraud during online business transactions. The use of digital signature certificates (dsc) is a helpful way to authenticate the personal information of individuals.


Data integrity: The primary benefit of using a Digital Signature Certificate (DSC) is that it offers much higher levels of data protection than traditional signature methods. By using a digital signature, businesses can be assured that their data is safe from fraudulent changes or tampering. Digital signature documents cannot be altered or edited after signing, which creates a secure and safe environment for the data.


Authenticity of documents: Digitally signed documents give the receiver legal assurance and guarantee of the sender's identity. In other words, the receiver can be confident that the document is from the sender, and not from someone impersonating the sender. Without getting worried about the documents being fabricated, they may take action based on those documents.
Classes of Digital Signature Certificate (DSC)
Class 2 Digital Signature Certificate (DSC) was the most popular digital signature online service among users. Class II DSC was registered by both individuals and organizations for e-filing purposes. However, it has been discontinued and only class 3 digital signature online service is valid now. Some of the main areas where it was required were:-


MCA e-filing
Income Tax e-filings
Registration of LLP
Application of GST
IE code registration
Form 16,etc

Class 3 DSC: The Class 3 DSC is the most secure of all the certificates and is mostly used for top secret or classified information that requires a high level of security. It is mainly used in online trading and e-commerce, where it involves handling and processing large sums of money electronically. Some of the main places where it is used are:-


E-tendering
Patent and trademark e-filing
MCA e-filing
Customs e-filing
E-procurement
E-bidding
E-auction,etc
edigitalsignature.org is a private digital signature certificate provider, offering various DSC services to startups, entrepreneurs, and existing business owners. Our DSC services include Class 2 digital signature, Class 3 digital signature, and DGFT digital signature online as well as a renewal of digital signature certificates.


Experts Consultants - At our company, we have a team of highly professional and knowledgeable Digital Signature Certificate (DSC) experts who will help you through every step of the process to buy a Digital Signature online.


24/7 Services - We're proud to offer our clients 24/7 digital signature online services. The process is simple: just fill out the application form on our website, and you'll receive your certificate promptly.


Low Cost - Our Digital Signature Certificates (DSC) are not only significantly more affordable compared to other providers, but also backed by robust customer support. We're committed to providing our customers with the best possible experience, and our team is available 24 hours a day to answer any questions or concerns you may have.


All India Services- E-digital Signature is committed to providing convenient online services to applicants all over India. You can easily buy Digital Signature online online from any state, city, or village, without having to leave the comfort of your home. Our user-friendly platform makes it easy for you to get started, and our customer service team is always available to help you with any questions you may have.

So what are you waiting for? Apply for your Digital Signature Certificate (DSC) today and enjoy the many benefits it provides, including improved security, increased efficiency and credibility, and legally binding electronic documents.

Get in touch with us by filling out a form on our Contact page or by following us and liking our content on Facebook. You can expect daily updates on our Facebook Page.



Conclusion

A Digital Signature Certificate (DSC) is a digital key that is encrypted and issued by a certifying authority (CA) to validate the identity of the certificate holder. It allows the holder to digitally sign documents and authenticate transactions. We tried to provide sufficient information related to the Digital Signature Certificate (DSC), and the benefits attributed to different classes. Hope you would find it useful.