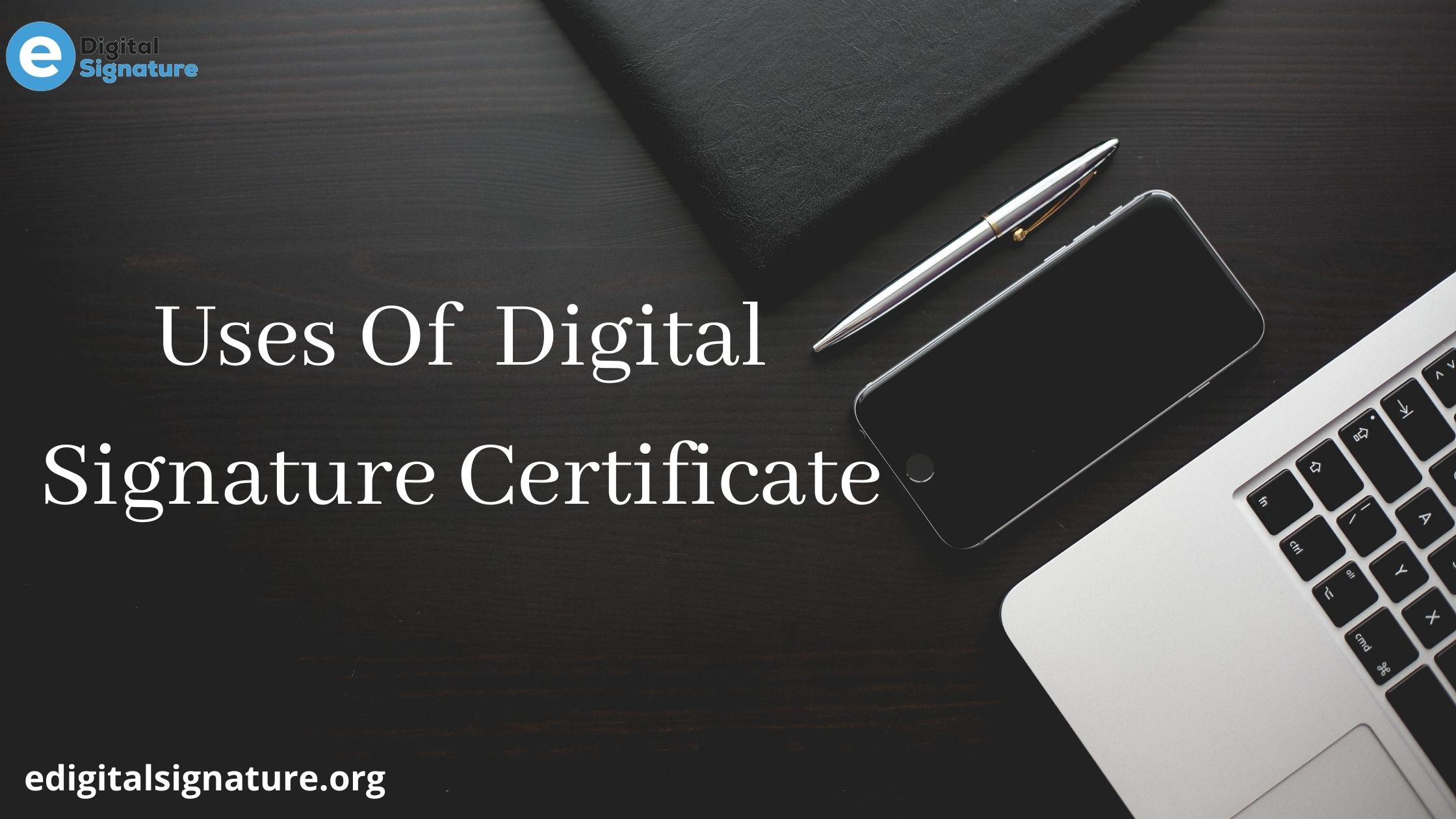 What are the Uses Of Digital Signature Certificate ?
Digital signature certificate is used as the same as that of a manually signed signature.A digital signature authenticates an individual using digital keys. A digital signature certificate attached to any document constitutes a binding promise by the holder of the signature in agreement with IT law in India.

One of the main points of the uses of digital signature certificate is to ensure that the receiver receives the documents in the original format as sent by the sender, and no other change has been to the files.The use of digital signature is rising, as it provides the data security. DSC helps to acquire the government or private tenders are available electronically or digitally.

In India it is compulsory for most to electronically file taxes such as income tax, sales tax etc. Uses of digital signature in any of these electronic transactions are mandatory to make it legally binding.
Uses Of Digital Signature Certificate
Uses of digital signature certificate can involve sending protected email, as well as making monetary transactions based on the Internet. You can also use Digital Certificate to sign code for any software you have created, or to prove ownership of your domain name. Use of digital signature is also mandatory in India for registration of patents and trademarks.

Here is the list of the foremost efiling, e tender and eprocurement websites where the use of Digital signature certificate is required for login


MCA
Income Tax
Sales Tax
West Bengal State Rural Development Agency (WBSRDA)
BIHAR GOVERNMENT (PMGSY)
Metal Junctions
Hindustan Petroleum Corporation Limited (HPCL)
Indian Oil Corporation Ltd. (IOCL)
Oil India Limited (OIL)
Oil & Natural Gas Corporation (ONGC)
GAIL
MSTC Limited
Bharat Petroleum Corporation Limited (BPCL)
Directorate General of Supplies & Disposals (DGSND)
Indian Railway Catering and Tourism Corporation Limited (IRCTC)
Neyveli Lignite Corporation Limited
Government of Gujarat
Gujarat Narmada Valley Fertilizers Corporation Ltd. (GNFC Ltd.)
Government of Orissa (PMGSY)
Maharashtra Government
Karnataka Government (PMGSY)
Tamil Nadu Government (PMGSY)
Coal India Limited
Indian Railways (IREPS)
Water Resources Department
MP Govt.
Patent and trade marks registration.(The Controller General of Patents, Designs and TradeMarks) Accepts class 3 from Safe script or TCS or N code only.
NTPC.
However Use of a digital signature certificate is not restricted to this. Also, one of the uses of digital signature also includes banking transactions and mobile security.
Uses Of Digital Signature Certificate (DSC) Class
Digital Signature Certificates are divided into class according to the type of there requirement


Class 2 DSC : These certificates are issued for the use of both business personnel and private persons. These certificates ensure that the information given by the subscriber in the application does not interfere with the information contained in well-recognized customer databases


Class 3 DSC : These are issued to both private and professional. Class 3 Digital Signature is the major key for an online procurement process involving a high financial value and simultaneous e-tendering.Because these are high-security certificates, intended specifically for e-commerce applications, they are only given to individuals on their personal (physical) presence before the Certifying Authorities.


DGFT: The DGFT Digital Signature is considered necessary when the digital signature is to be executed in the electronic format for transactions that must be executed on the DGFT portal through the web browser. This can be used by group exporters and importers who are already registered with the DGFT.
Process to Apply to Make Uses of Digital Signature Certificate (DSC)
Step 1: Visit the edigitalsignature.org Website


Step 2: Select the option according to your requirement.


Step 3: Then, fill the required details for digital signature certificate application form


Step 4: Make the online web payment for your online DSC application form


Step 5: One of the DSC registration experts will process your DSC Application


Step 6: Within 1-2 hour you will receive your DSC certificate in your registered e-mail address.

Digital Certificate can be used for MCA21, income tax, e-filing, eProcurement, and for many other reasons. We provideDigital Signature Certificate by Certifying Authorities with an easy process.

So don't wait and apply for DSC according to your requirement at edigitalsignature.org. You just have to fill the form and leave the rest in our hand. You can also visit our FAQ page or ask your doubt in the enquiry form.