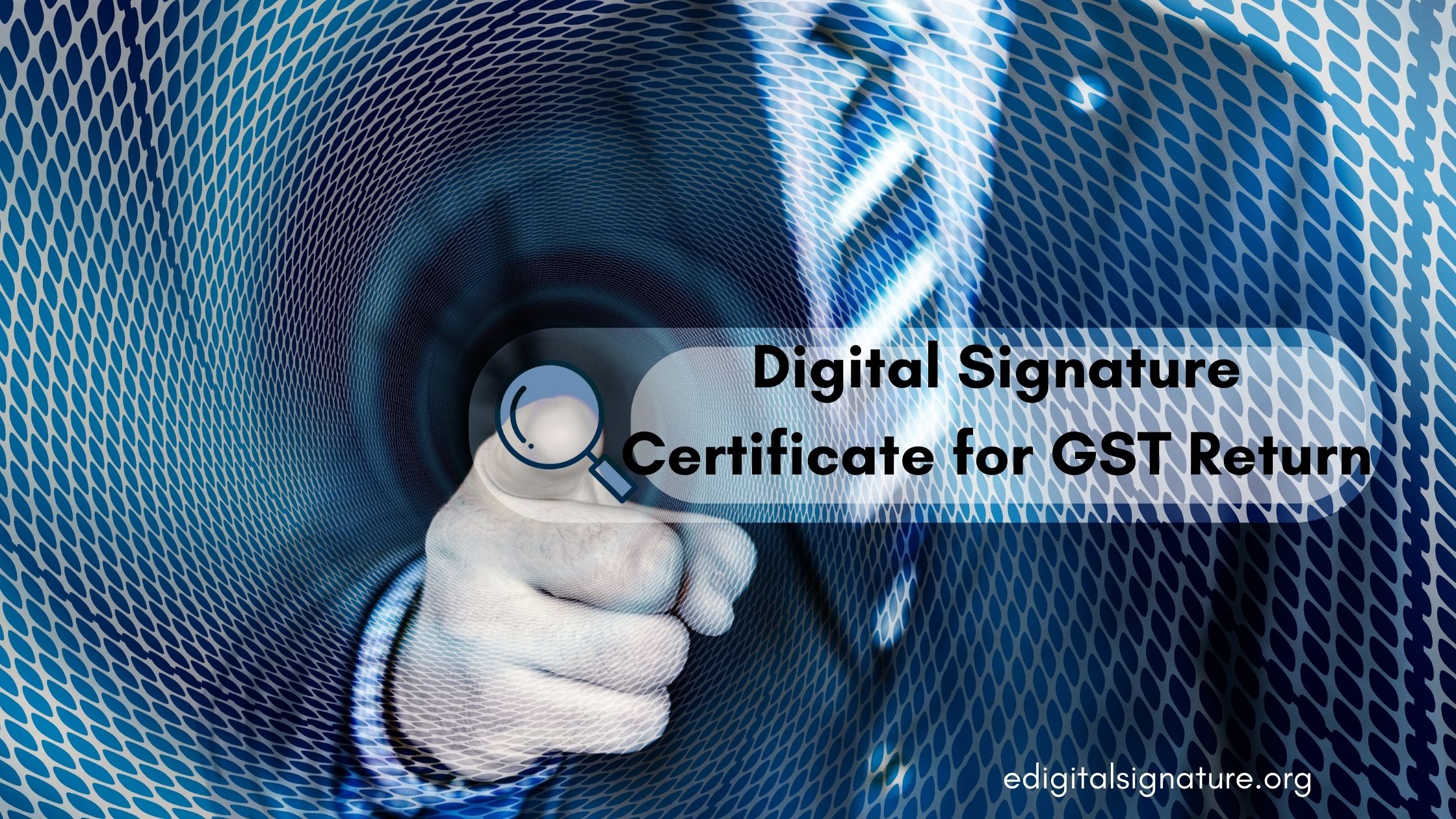 Digital Signature Certificate for GST Return
Digital Signature Certificate for GST is used to file GST easily and acts as a substitute for the hand-written signature. Digital Signature Certificate (DSC) is an encrypted and secure way to acknowledge the certificate holder.There are diffterent types of Digital Signature Certificate. For GST filing, a Class 2 DSC is needed. Under GST, all the documents should be uploaded digitally like GST applications or documents.

You can apply for Class 2 Digital Signature Certificate for GST Return here.


What is GST?
Goods and Service Tax (GST) is known as the Indian Government regulated indirect form of revenue generation on the supply of goods and services. GST is effective from 01st July, 2017. GST allows companies and enterprises around the nation to improve enforcement levels. Using the GST common Portal, companies may appoint employees as registered signatories, enabling them to sign and file tax returns on the company behalf online.


How DSC is used for GST return?
The GST Common Portal acts As a medium to enable taxpayers to meet GST pre-requisites such as filing tax returns and paying taxes. GST enrollment involves testing current taxpayer data and entering details in essential fields. The mechanism remains the same if the taxpayer falls under the purview of the tax laws of the Centre, State, or Union Territory.

Using the Digital Signature Certificate (DSC), registered people on the Authorized Person tab of the GST Common Portal for a business entity can sign and file GSTR on behalf of that entity.
Digital Signature Requirements For GST Return
All the applications, GST returns, GST registration application, reply to notices or any other document requires a digital signature as per the Information Technology Act 2000. The applicant needs to attach a digital signature certificate or e-signature to file GST.

The list of a person authorized to sign or verify a GST document is as below:

Proprietorship and Individuals In the case of Proprietorship and Individuals can be used by himself, or if he/she is unable to attend the meeting, any other person competent to act on his behalf or by his guardian.

Hindu Undivided Family (HUF) In the case of a Karta if he/she not physically present in India or by any other means could not be present it can be used by any other adult member of such family or by the authorized signatory of such Karta.

Private Limited Company, One Person Company or Other Types of Company The chief executive officer or Managing Director or authorized signatory nominated by the Board of Directors can use DSC for GST return for a private limited company or one-person company,

Limited Liability Partnership In the case of Partnership Firm, a Partner or authorized signatory nominated by the Partnership Firm, who is not a minor, by the chief executive officer or Designated Partner or authorized signatory.

Governmental Agency An officer authorized in this behalf can file using DSC for GST return, in case of Government or any Governmental agency or local authority.

Trusts The trustee or any trustee or authorized signatory, in the case of a trust.


Process to Get Digital Signature Certificate (DSC) for GST Return
Step 1: Visit the edigitalsignature.org Website


Step 2: Select the option 'Class 2' according to your requirement.


Step 3: Then, fill the required details for digital signature certificate application form


Step 4: Make the online web payment for your online DSC application form


Step 5: One of the DSC registration experts will process your DSC Application for GST return.


Step 6: Within 1-2 hour you will receive your DSC certificate in your registered e-mail address.
Apply now for Digital Signature Certificate (DSC) for GST Return

Edigitalsignature.org has made it easy for every person individual or organization to get a Class 2 Digital Signature Certificate now. We are continuously working on making the process easy and reliable for the users. You can also apply for different types of DSC classes based on your entity. We provide services for Class 2 DSC, Class 3 DSC, DGFT and USB token for DSC.

So hurry up and apply for DSC according to your requirement at edigitalsignature.org. You just have to fill the form and leave the rest in our hand. You can also visit our FAQ page or ask your doubt in the enquiry form.