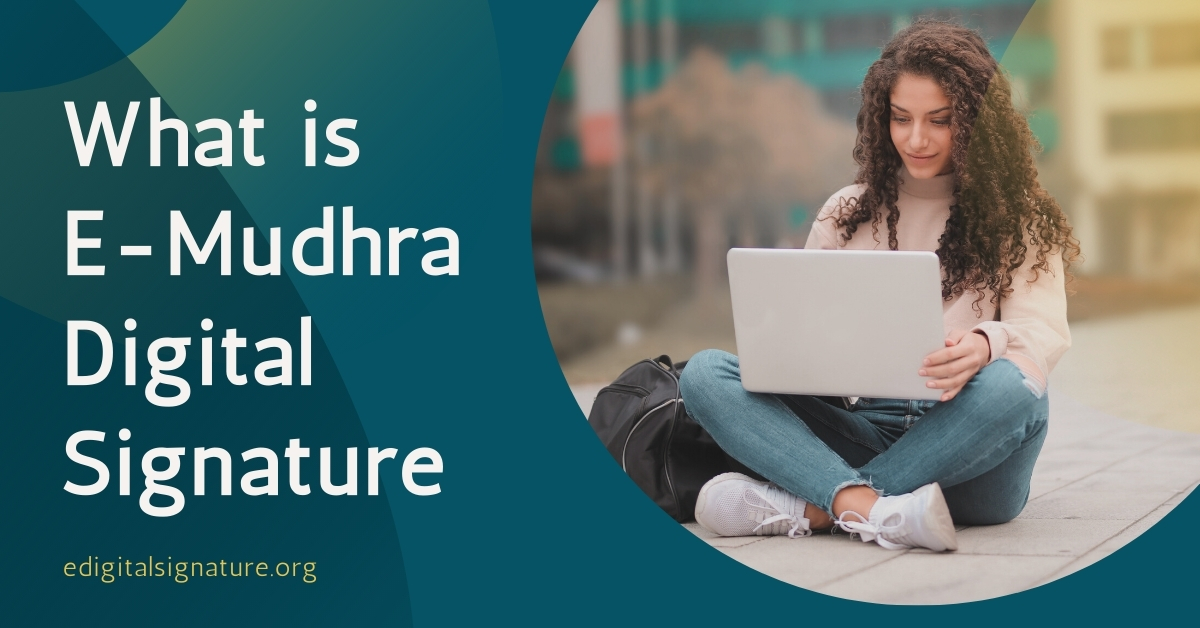 What is E-Mudhra Digital Signature Certificate (DSC)?
'E-Mudhra Digital Signature is a brand name, referring to the Certifying Authority, operated by e - Mudhra Limited and authorised by the Controller of Certifying Authorities (CCA). Govt. For India under the Information Technology Act 2000, which requires the related infrastructure for the provision for Certification & Trust services as laid out in this CPS.

"EMudhra Limited" refers to a company registered under the Indian Companies Act of 1956 and an eMudhra Limited affiliate. Formerly branded as "eMudhra Consumer Services Ltd," and "Consumer Services Ltd"

'Digital signature' requires the verification by a subscriber of some electronic record. The electronic system or technique is given in section 3 of the IT Act.

A digital signature certificate (DSC)is issued to the applicant by e-Mudhra. It also includes a digital signature certificate (dsc) issued under section 35 of the IT Act, sub-section (4)

CA refers to e-Mudhra, as licensed by CCA to issue digital signatures online.
e-Mudhra Certification and Trust Services
The main business goals of eMudhra Digital Signature online are:


Changing the rules of the customer service game and offering either entirely new services or similar services with great variation to consumers;


Enabling customers to control their financial and regulatory commitments and needs through processes facilitated by technology and through improving the way they transact;


Enabling and encouraging customers with the use of safe infrastructure to help them meet their financial objectives.

Whereas the Indian customer base expands rapidly, eMudhra has built to handle the volume Appropriate development engines to have a non-linear business requirements model for customers. E-Mudhra provides users with digital signature certificates so they can transact securely over the internet.

This Certification Practice Statement (CPS) identifies the procedures adopted for the management of the lifecycle of e-Mudhra CA certificates, provided This Certification Practice Statement outlines the activities followed by e-Mudhra to offer Digital Signature Certificates (DSC) and related services.. The CPS is the primary statement of action for Services rendered by e-Mudhra, which complies with the Indian Information Technology Act , 2000 (IT Act). Everything remotely assisted transfers, viz.,

Electronic data sharing and electronic forms of communication, coming into the framework of Legal recognition under the Information Technology Act shall be given to "electronic trade"
Rights and Obligations
Except as otherwise informed by the applicant, the applicant, applying for a certificate through eMudhra CA, understands and accepts that it shall be bound by this CPS at all times during the approval and validity of the certificate, and by any person depending on the details found in the certificate, for the following:


The details sent to e-Mudhra by the certificate applicant and included in the certificate are regarded as being valid and correct as provided by the applicant. ( Applicant "or" Customer "means a person, agency, or organization that has demanded a digital service E-Mudhra signature certificate to be released )


No other one has ever had access to a secret key for subscribers.

In accepting the certificate issued by e-Mudhra CA, the subscriber undertakes to use it in a trustworthy system and it shall be solely responsible for the possession and usage of a private key and shall take such steps as are necessary to prevent unauthorized usage, entry, misuse or destruction of a private key. The customer shall request revocation at all occasions when proof of fraud, misuse, failure and compromise of the user's private key has been obtained.
Liability
Without limiting the obligations of subscribers set out in this CPS, subscribers are liable for any misrepresentation that they render in digital signature certificates (DSC), and on which third parties fairly conclude the same is valid.
Obtain your E-mudhra Form Now! If you still have any queries related to Digital Signature, then visit our FAQ - Frequently Asked Question page. You can also apply for Class 2 DSC, and Class 3 DSC for personal use or organizations at edigitalsignature.org .
Digital Signature Certificate (DSC) 3 USE CASES
The use cases for Digital Signature Certificate (DSC) 3 are as follows:
Trademark and Patent e-filing.
Customs e-filing
E-Auction
CBSE School, Director's KYC, etc.
IE Code Registration
Form 16
LLP Registration
GST Application
E-Tendering
E-Procurement
MCA E-Filing
Income Tax e-filing
E-Biding
ICEGATE
Foreign Trade
E-Mudhra Security
ISO 27001/ISO 27018
E-Mudhra is the industry-leading provider of ISO security standards for IT Controls and Data Security. With our cutting-edge security solutions, you can be sure that your data is safe from any potential threats. We offer a comprehensive suite of security products and services that are designed to protect your data from the latest threats.
Webtrust Accredited
E-Mudhra provides a comprehensive suite of services that help businesses streamline their operations, improve their efficiency, and remain compliant with industry-specific regulations. Our services are webtrust accredited, which means that they meet the highest international standards for quality and security.
SOC 2 Type 2
E-Mudhra's cloud offerings have been independently verified and are compliant with the SOC 2 Type 2 security standards, which are widely considered the gold standard for security and privacy for cloud-based services.
CMMI Level 5
E-Mudhra services and offerings are compliant with software development standards of a high maturity level. They are committed to providing quality services that meet the needs of their clients. Their products are designed to be user-friendly and meet the highest standards of quality.
HIPAA
E-Mudhra is an industry leader in data management for healthcare, with a team of highly skilled and experienced professionals.
GDPR
E-Mudhra is fully compliant with the General Data Protection Regulation (GDPR) of the European Union. They have implemented robust processes and security measures to protect the personal data of our customers, employees, and partners. Their operations and services are in full compliance with GDPR requirements.
Conclusion
The electronic system or technique for the purposes of authentication or identification is provided in section 3 of the Information Technology Act, 2000.
A digital signature certificate (DSC) means a digital signature issued to the applicant by e-Mudhra. The E-Mudhra digital signature is used for various purposes such as filing Income Tax returns, signing documents electronically, etc.