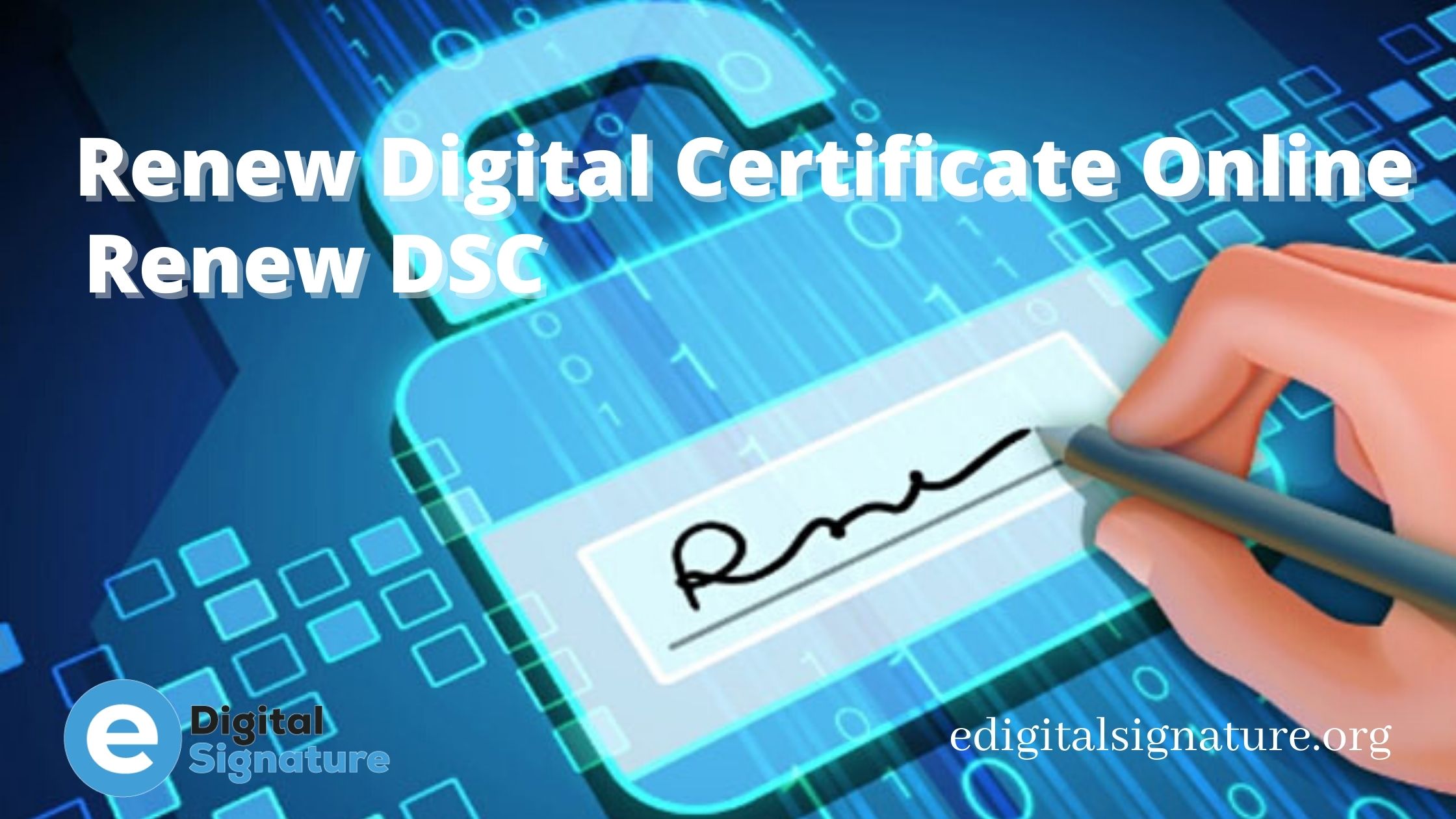 Renew Digital Certificate Online - DSC Renewal/ Changes in DSC
Applying for renewal or change in DSC, follow simple process to renew it, types, documents required for it, and how to apply for emudhra renew DSC online.

A Digital Signature Certificate (DSC) or Digital Signature is a mathematical technique that is used to vindicate the authenticity and integrity of a message, software or digital document. It is the digital equivalent or an electronic format of physical or paper certificates.

Digital Signature Certificates or DSC are being used by various government agencies and now is a legal requirement in various applications. Some examples of physical certificates are Driving License, Passport or Membership Cards. DSC guarantees that the contents of a message have not been changed in transit. The validity of the certificate is handled by law, and the certificate cannot be bought for more than three years and less than a year.


Digital Signature Certificate Types
There are 3 different types of Digital Signature Certificates – Class 1, Class 2 and Class 3. All of these are described below:


Class 1 Certificate

Class 1 certificates can be issued for both private and personal use. It makes sure that the information submitted by the user is the same as the information stored in the consumer database. Although these certificates do not hold major significance, they provide a basic level of assurance relevant to environments where there are risks and consequences of data compromise.


Class 2 Certificates

Class 2 certificates can also be issued for both private and personal use. It ensures that the data entered by the signer matches with that stored in the database. Class 2 certificates are used in income tax filing, GST application, LLP registration, online registration, form-filling, etc. These are applicable to environments where risks and consequences pertaining to data compromise are moderate.


Class 3 Certificate

This certificate can be issued to individuals as well as organizations. This is the safest of all certificates. This level is relevant to environments where data is at high risk or the consequences of the failure of security services are high and confidential information is involved. Class 3 certificates are used in patent and trademark e-filing, customs e-filing, e-commerce applications, etc.
Order a new Digital Signature Certificate DSC Online! Just Fill this DSC Digital Signature Form.
Steps to Get Your E-Certificate Renewed
You should acquire a DSC USB-token if there should arise an occurrence of DSC renewal. On the off chance that you have not obtained a USB-token while enlisting for your DSC, at that point you should acquire the equivalent for the renewal procedure.


You should apply for the restoration with a similar name enrolled in your current DSC. Any change in the name during the reestablishment procedure isn't allowable and will be treated as a new application for the enlistment of another DSC.


Changes made to the postal location and contact subtleties are admissible.


The application for the reestablishment of the DSC must be made 7 days preceding the expiry of your current DSC.


To apply for restoration or change in DSC, you should introduce on your PC/ machine the current DSC and the DSC which requires a change.
Follow this steps to make Changes in DSC
To change Digital Signature Certificate subtleties, the association needs to follow the steps mentioned below -


Login with client ID utilizing existing Digital Signature Certificate.
Select the 'Change DSC subtleties' option.
Fill the necessary subtleties of the DSC, which should be in sync with your client ID.
Select the restored/Changed DSC.
DSC Renewal Document
If you have failed to apply for the renewal or change in DSC before its expiry, you should follow the details underneath to apply for the equivalent.

The following documents will be required –


DSC Change request cum Authorization Letter
Screenshots of the new DSC
On acquiring the previously mentioned records you should take a print of the equivalent and wall it in an envelope stamping it with 'Reestablishment or change of Digital Signature Certificate for Online PAN Verification'. Post the envelope to the accompanying location for additional handling:

Online PAN Verification Team
NSDL e-Governance Infrastructure Limited
1st Floor, Times Tower,
Kamala Mills Compound,
Senapati Bapat Marg,
Lower Parel (W),
Mumbai – 400013.
Apply for emudhra Renew DSC Online on edigitalsignature.org
In order to renew a digital signature certificate apply online with us. Just follow a simple step to get your official authorized digital signature.

Step 1: Visit the edigitalsignature.org Website

Step 2: Fill all the details digital signature certificate application form

Step 3: Make 100% online payment for your online DSC application form

Step 4: One of the DSC registration experts will process your DSC Application

Step 5: Within 1-2 hour you will receive your DSC certificate in your registered e-mail address

edigitalsignature.org is a private digital signature agency consultant, offering various DSC services to startups, entrepreneurs and existing business owners. Our DSC services include Class 2 digital signature, Class 3 digital signature, and DGFT digital signature online as well as renewal of digital signature certificates online.

Apply for Digital signature with the paperless process, No document hard copy required, Hassle-free services. Get a free consultation for DSC. We are a team of DSC experts who will help you to complete your DSC process on time. Get your Digital Signatures for MCA ROC filing, DGFT, GST, e-tendering, e-procurement, Income Tax filing, Foreign Trade, EPFO, Trademark, etc.

Our service is trusted by 11,000 customers from all over India who apply online with edigitalsignature.org.

Do more just by saving lots of money with edigitalsignature.org support.

Obtain your emudrha DSC Certificate or Renew it Now!

If you still have any queries related to the e-Digital Signature and renewal process, then visit our FAQ - Frequently Asked Question page. Or else contact us just by filling the application form, one DSC registration expert will call us.

We hope we were able to make the procedure understandable and clear. In case of any queries, reach out to us and our team will assist you.
Written by Mitaali Dayal