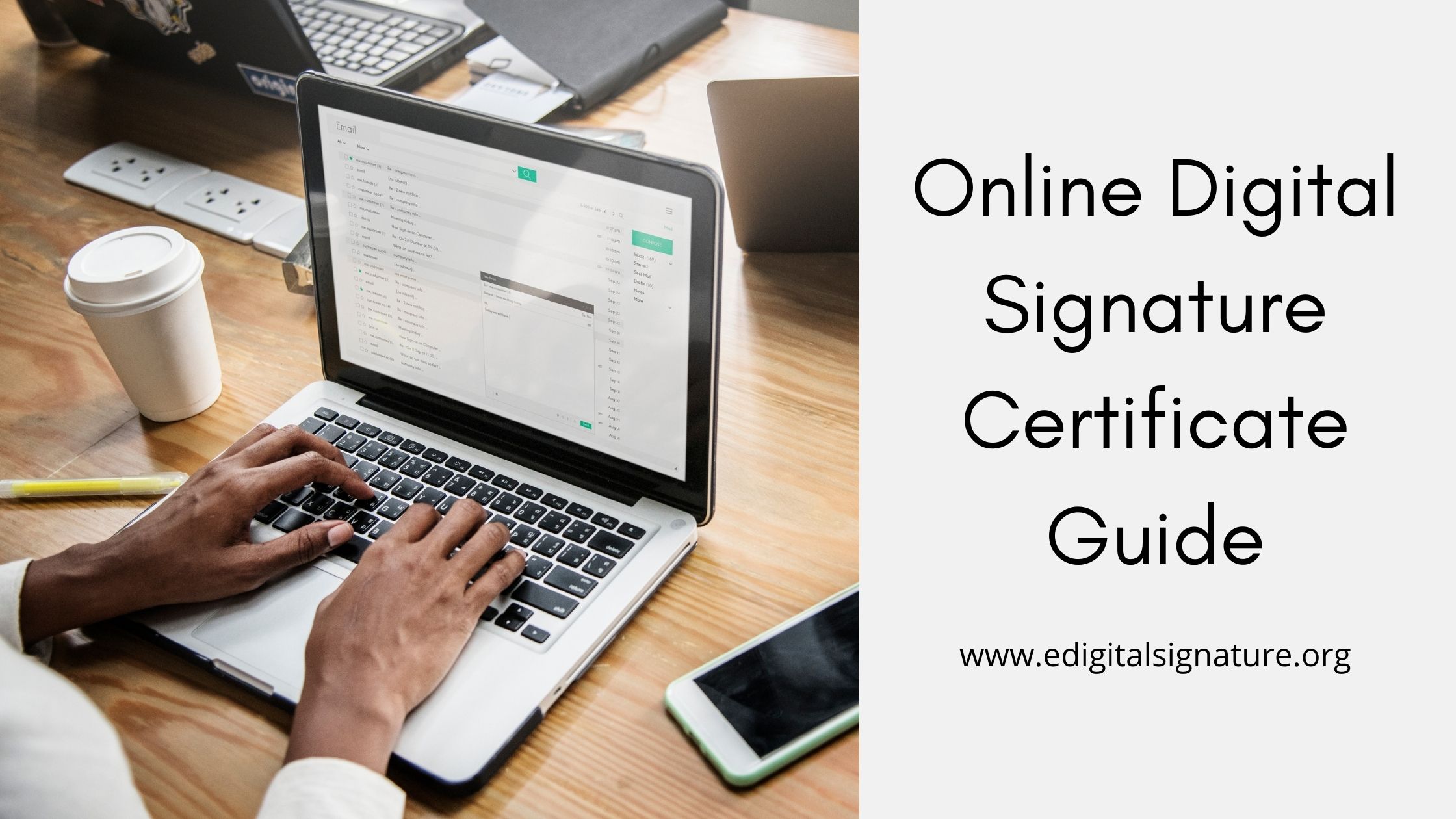 Online Digital Signature Certificate Guide
A Digital Signature Certificate is a way to online verify a person. It is the same as the other certificates that prove your identity offline, such as passports, driving licences and PAN cards. People also have questions about what is a digital signature certificate? Who is permitted to use a digital signature? And how do I get an online Digital Signature Certificate?
You are in the right position if you still have similar questions. We have discussed in this blog all the things you need to know about the Online Digital Signature Certificate and its process.
Online Digital Signature Certificate Guide
A Digital Signature Certificate in an electronic format is identical to a physical signature. It contains the certificate holder's details, such as the name of the individual, the pin code, the name of the country, the email address, the date the certificate was given, and the name of the certifying authority.
A digital signature, the digital equivalent of a handwritten signature but providing much more inherent protection, is intended to solve the digital communications issue of tampering and impersonation. In several countries, including India, digital signatures have the same legal meaning as the more conventional types of signed documents. Digital signatures may provide additional proof of the origin, identity and status of an electronic document. In India, it is used in many e-Governance applications, such as online filing of income tax returns, business forming and management, e-tendering, etc.
Benefits of DSC
There are several benefits to keeping a Digital Signature Certificate, some of which are discussed as follows:
Online companies are emerging every day in today's world. Digital Signature Certificates only assist you and others to interact with authentic individuals as they carry the checked personal information of a person.


Initially, a person was required to physically sign and scan documents in order to e-mail the respective recipient or courier. You can sign any documents digitally today and send them within a couple of minutes. This saves a lot of time and expenditures that would be needed otherwise.


For authorization of a business, the DSC holder is not required to be physically present.


They can not be changed or edited in any way until the records are digitally signed. It makes the details in documents secure and confidential.


As the DSC is known as an official document, government agencies are sometimes asked about it for the purpose of checking such business transactions.


It is regarded as an authentic document, as the DSC has checked information, which in turn gives the recipient trust to be assured of the identity of the individual. This helps to differentiate genuine documents from forged ones.
Classe of Digital Signature Certificate
There are two different classes of Digital Signature Certificates that are needed according to the requirements.
Class II DSC: Class 2 Certificates are issued for personal use as well as for commercial use. There are medium risks and effects of data compromise. It is used by registered users as the most widely used digital signature credential.


Class III DSC: The Digital Signature Certificate Class III is often used where there is a high data protection risk. This credential is issued for personal use as well as for organisational purposes. To get this DSC, to prove their identity, the person must be present in himself before the certifying authorities. It is mostly used online.
Uses of Digital Signature Certificate
Check what are the various purpose for which digital signature certificate is used:
For Personal Use: Any document that is signed electronically for security purposes can be signed for personal use.


For Commercial Purpose: You can send electronically signed documents to your business partners, but you can also send electronically signed documents to your business partners, investors and other shareholders. Other examples include digital signatures, the signing of corporate agreements and the signing of proposals for digital signatures.
For e-filing of income tax returns, e-filing for a company registrar, online auctions, digital signature certificates is required.

How to Get a Digital Signature Certificate?



Process to get an digital signature certificate online:



Step 1:Visit the Digital Signature Certificate Website.

Step 2: Enter the details required in the application form.

Step 3: Make the online payment for further process of your DSC application.

Step 4: One of the DSC registration experts will process your DSC Application.

Step 5: You will receive your DSC certificate in 1-2 hours at your registered email address.


Why Choose for DSC Service?
There are different classes of Digital Signature Certificates that are needed according to the requirements.



E-digitalsignature.org offers various digital signature services, such as online registration for Class 2, Class 3 and DGFT, making it easier for people to access them. We have a group of trained consultants who will help you obtain the digital certificate as needed.





All you have to do is fill out the form online on our website and we'll help you obtain an e-digital certificate online in your first phase.



You can ask our DSC experts in the complaint form hosted on our website if you still have any difficulties, then you can visit our DSC Frequently Asked Questions page or reach us at edigitalsignature.org and we will contact you soon.