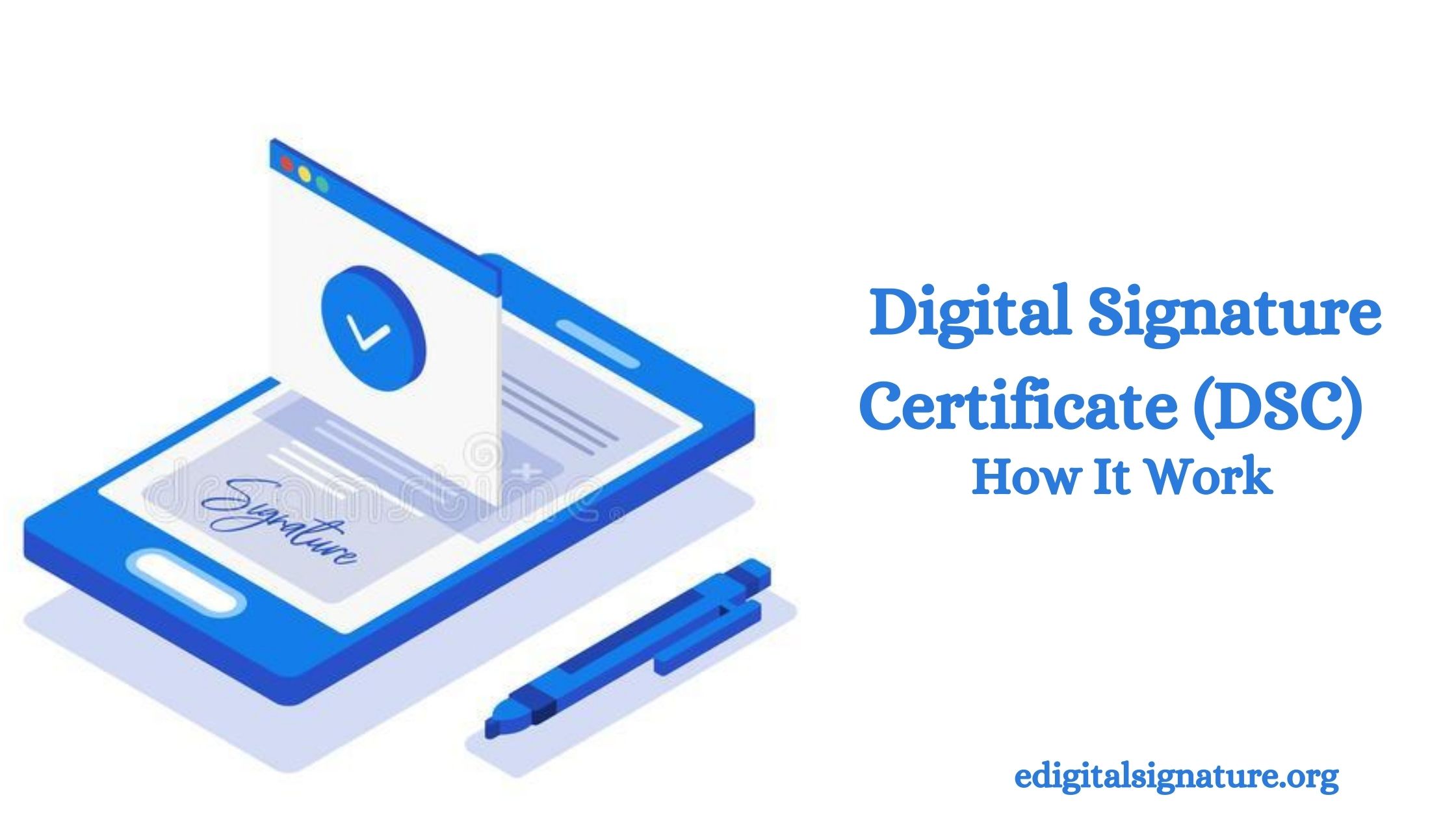 Digital Signature Certificate (DSC) - How Does It Work ?
A digital signature is used to ensure that the file(s) sent digitally belongs to a specified source and reaches the intended receiver in its original format without any changes In basic terms, a digital signature functions in the same way as an envelope seal does.

For people who want to give a physically signed contract to another country. The papers will need to be sent via a courier. This method requires lots of paperwork and waste precious time thereby. Instead, the papers could have been submitted online in a matter of minutes if you had only used a digital signature. That way, you can save both time and money. Numerous research carried out around the world show that the use of digital signatures can save every working professional a whole working week. The time saved coupled with the inevitable money savings will certainly drive the rapid adoption of digital signatures around the world.
How A Digital Signature Certificate Work
Digital signatures work by ensuring that, intentionally or unintentionally, a digital message or document has not been changed from the time it was signed. Digital signatures do so by using the sender's private key to produce a specific hash of the message or document and encrypt it. The generated hash is unique to the message or document, and changing any part of it will change the hash altogether.

Once the message or document is complete, it is digitally signed and sent to the receiver. The receiver then generates its own message hash or digital code, and decrypts the hash of the sender (included in the original message) using the public key of the sender. The recipient compares the hash created against the decrypted hash provided by the sender; if they match, the message or digital document is authenticated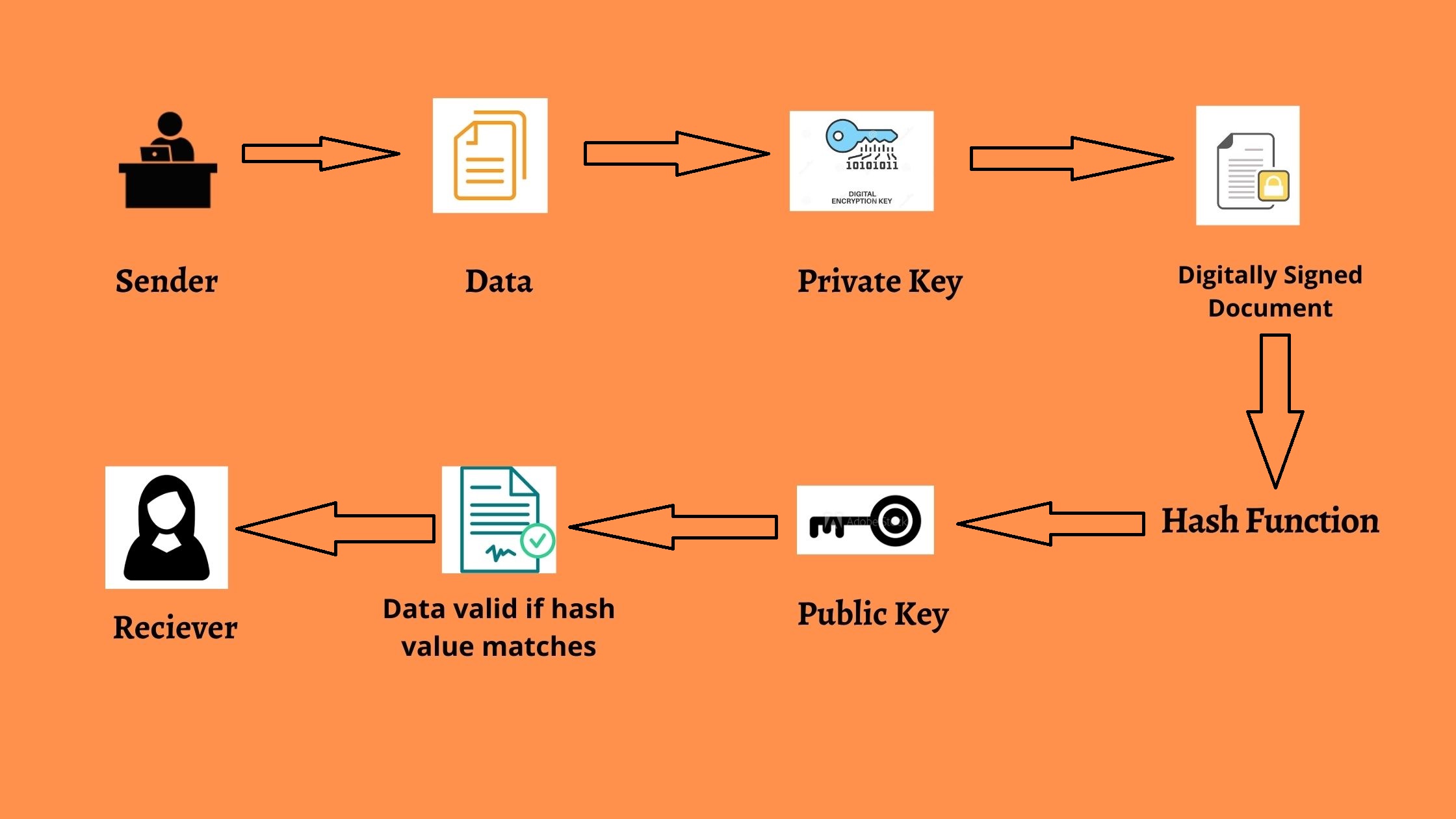 Here Is The Process How A DSC Works
Benefits Of Digital Signature Certificate (DSC)
Tha main benefit of Digital Signature Certificate is that it protects the data content from any changes or threats. Aside, from this there are many benefit of obtaining a DSC . Some of them are as follows :-


Low Cost: Physical signatures include paper, pen, ink, printing and/or courier that add to the cost of doing business. Digital signatures are paperless and save all the costs by signing digitally or in a paperless way.


Convenience: For big companies or organizations it requires a lot of documents to sign. Digital signatures make it easy for organizations to enable the processing of records and transactions by organizations volumes.


Time-Saving: It only takes a few minutes to get the digital signature form. All you need to do is open and sign the document online, and give it to the recipient!


International Acceptance: This is considered an acceptable way of doing business because digital signatures use globally certified technology. When you use digital signatures it will build your business creditworthiness.
Process To Obtain Digital Signature Certificate (DSC)
Step 1: Visit the edigitalsignature.org Website


Step 2: Fill all the required details needed for digital signature certificate application form


Step 3: Make the complete online payment for your online DSC application form


Step 4: One of the DSC registration experts will process your DSC Application


Step 5: Within 1-2 hour you will receive your DSC certificate in your registered e-mail address.



Process To Obtain Digital Signature Certificate (DSC)


Edigitalsignature.org is an ISO certification authority which provides online digital signature certificates in India. Our services include providing Class 2 digital signature (dsc), Class 3 digital signature, and DGFT digital signature online as well as renewal of digital signature certificates online.

You just have to fill the digital signature form and you will get the Digital signature with the paperless process.

Get your Digital certificate and Digital signature online today by applying for DSC with a single click. We have a team of professional DSC experts who will help you to get your e-sign in hand. Get your Digital Signatures for MCA ROC filing, DGFT, GST, e-tendering, e-procurement, Income Tax filing, Foreign Trade, EPFO, Trademark, etc.

If you still have any queries related to Digital Signature, then visit our FAQ - Frequently Asked Question page and Obtain your Digital Signature Certificate Now!