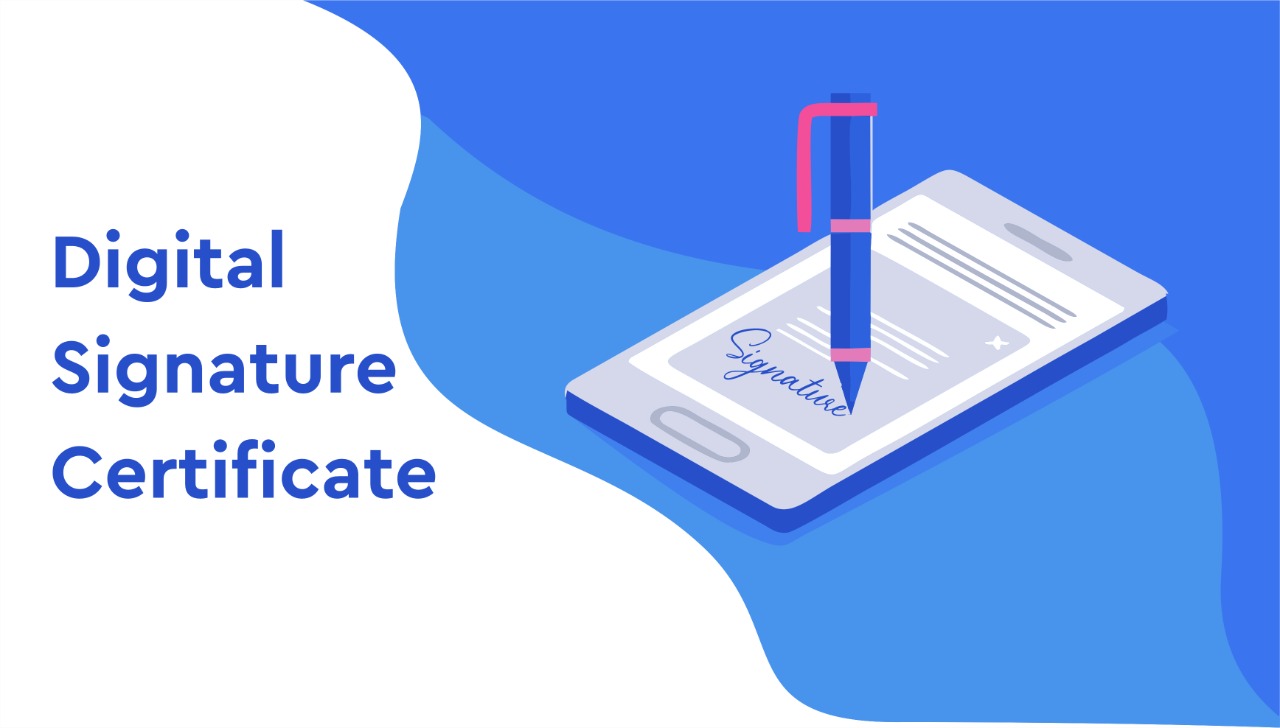 What Is A Digital Signature Certificate?
A Digital Signature Certificate - DSC is a certificate that validates the identity of a person digitally, it is issued by certifying authorities. The Digital Signature Certificate makes use of public-key encryptions and creates a secure digital signature of the person who holds the certificate.

The contents of the DSC include name, pin code, e-mail address, country, date of issuance and name of the certifying authority. The validity of the DSC is generally 1 or 2 years from the date of issuance. Once the certificate is expired, the certificate holder is required to renew it.

A person can obtain one or more DSCs for personal and professional uses. These Digital Signature Certificates are accepted as evidence in legal courts and other official organizations.
In order to get Digital Signature Certificate Online! Just Fill this emudhra DSC Form.

If you are looking to buy a DSC Digital Signature Certificate or have any questions related to the same. Feel free to get in touch with the expert from edigitalsignature who will be happy to help you.
Benefits of DSC - Digital Signature Certificate?
Holding a Digital Signature Certificate has many advantages, some of them are discussed as follows :


In today's world, online businesses are emerging every day. Digital Signature Certificates help you and others in dealing with authentic people only as they hold a person's verified personal information.
Initially, it was required for a person to physically sign documents and scan them in order to e-mail the respective recipient or courier the same. Today, you can digitally sign any documents and send them within a few minutes. This saves a lot of time and costs that would otherwise be required.
For authorization of a business, the DSC holder is not required to be physically present.
Once the documents are digitally signed, they cannot be altered or edited in any way. This makes the data in documents safe and secure.
As the DSC is considered as an official document, it is often asked about by government agencies for the purpose of verification of certain business transactions.
As the DSC has verified information, it is considered as an authentic document which in turn gives confidence to the recipient to be assured of the person's identity. This helps in differentiating authentic and forged documents.
The Digital Signature Certificate fulfills certain statutory compliances like?
For filing income tax returns, individuals and entities who have to get their accounts audited are required to mandatorily use a digital signature. The Ministry of Corporate Affairs has also made it compulsory for companies to use a digital signature while filing all reports, applications, and forms.
A company can get registered under GST only by verification of its application through a digital signature. It is also necessary for filing applications, amendments, and other related forms.
Certifying Authorities for Digital Signature Certificate in India?
In India, mudra has been authorized for issuing digital signatures by the Controller of Certifying Authority. It is one of the issuing authorities for issuance of the DSC including (n) Code Solutions, National Informatics Centre, Safescrypt and Institute for Development and Research in banking technology.
Three Types of DSC Issued
As mentioned above, we have seen how the DSC can be obtained by individuals or business entities for personal or professional uses. Therefore, depending on the applicant and purpose of obtaining the DSC, one must apply for the most suitable class of certificates.
The three DSC classes have been discussed below :
Class 2 Certificates: Issued to the directors or signatory authorities of a company, the purpose of these certificates is to e-file with the Registrar of Companies (ROC). For individuals who are required to manually sign certain documents while filing returns with the ROC, the Class 2 DSC is mandatory.
Class 3 Certificates: Issued to the vendors who wish to participate in online tenders, the Class 3 DSC is mandatorily used in online participation/bidding in e-auctions and online tenders anywhere in India.
DGFT Certificates: Issued by the organization only with the presence of a signing certificate. It comes under the play when the digital signature is required in the electronic format for transactions though web browsers on the DGFT portal.
Documents Required to Apply for DSC (Digital Signature Certificate)
The requirements for applying a Digital Signature Certificate are as follows —
Submitting of DSC Application form duly filled in by the applicant.
Producing Photo ID proof.
Producing Address proof.
Producing the Aadhaar Card.
Producing the PAN Card.

If you have these DSC requirements it's more than enough to get your DSC - Digital Signature Certificate.
How to apply for DSC?
Step 1: Visit the edigitalsignature.org Website
Step2: Fill all the details on DSC Application Form as per your requirements
Step3: Make the online payment for your DSC Application
Step4: One of the DSC registration executives will process your DSC Application
Step5: Within 1-2 hour you will receive your DSC certificate in your registered e-mail address
The process to Apply Digital signature online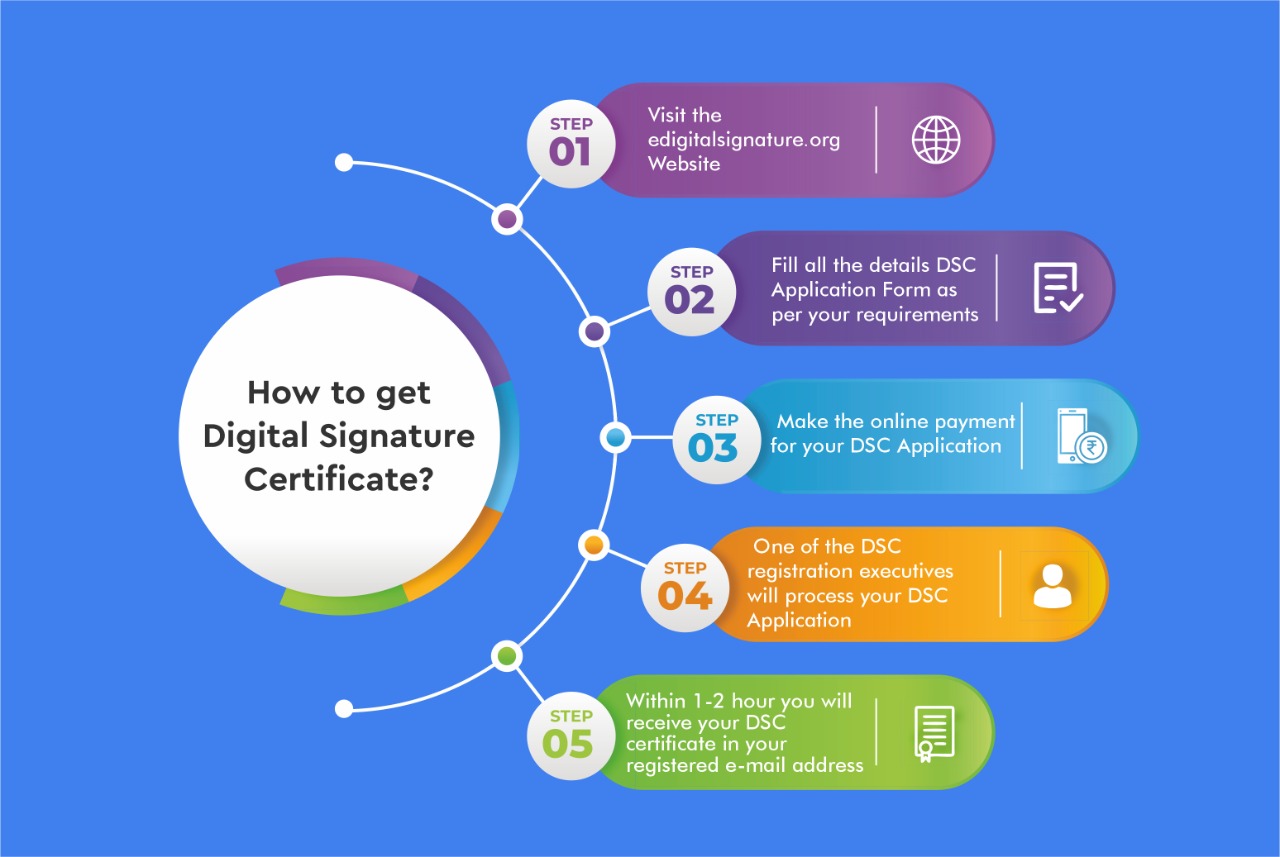 About Us - edigitalsignature.org
edigitalsignature.org is an ISO license certification authority to provide digital signature certificates online in India. Our services include providing Class 2 digital signature, Class 3 digital signature, and DGFT digital signature online as well as renewal of digital signature certificates online.

Fill the digital signature form and apply your Digital signature with the paperless process, No document hard copy required. Hassle-free services.

Get your Digital certificate and Digital signature today and leave the rest on us. We have a team of DSC experts who will help you to complete your DSC on time. Get your Digital Signatures for MCA ROC filing, DGFT, GST, e-tendering, e-procurement, Income Tax filing, Foreign Trade, EPFO, Trademark, etc.

Trusted by 11,000 customers from all over India who apply online with edigitalsignature.org.

Save time, money and do more with edigitalsignature.org support.

Obtain your Digital Signature Certificate Now! If you still have any queries related to Digital Signature, then visit our FAQ - Frequently Asked Question page.