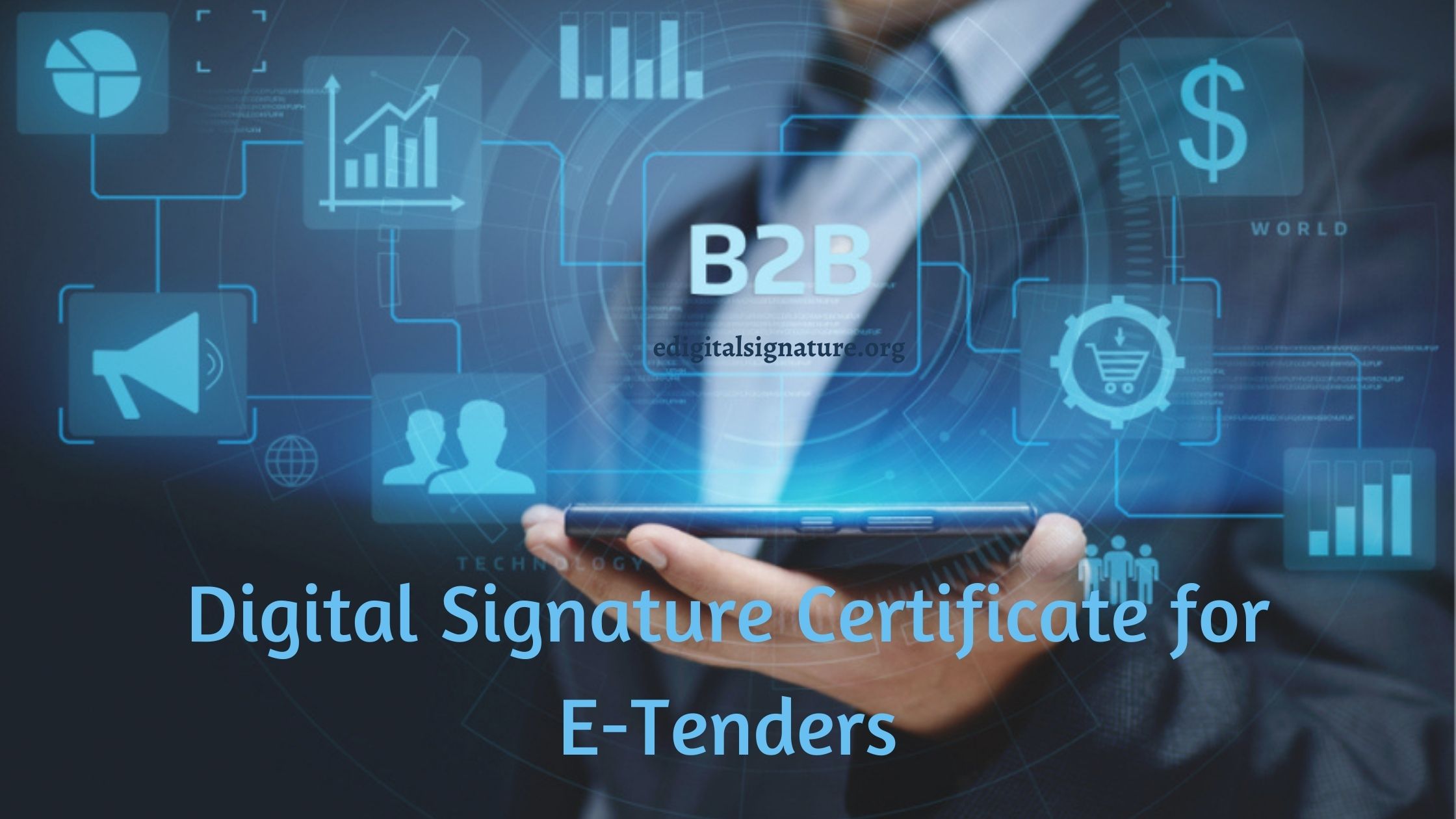 Digital Signature Certificate for E-Tenders
E-procurement is a business-to-business (B2B) mechanism in which goods and services are procured and distributed over the internet. It differs from e-commerce in the sense that it is a closed system that enables the participation of only a small number of registered users.
E-procurement provides a line of communication between a business and a supplier, enabling interactions such as bids, purchase orders, etc.

In order to conduct business online, e-tender is used as a forum for advertising these procurements. A Digital Signature Certificate is essential for carrying out an e-tendering process.
A Class 3 type of digital signature certificate is required for e-tendering which provides the highest level of security for tendering applications. Digital signature validity can vary over a period of 1, 2 or 3 years.
How a Digital Signature Works?
While registering for a digital signature certificate, a private and public key are generated using the same algorithm by the controller of Certifying Authority (CA). The private key is shared with the respective individual/party only whereas the public key is made universal.

The private key is a secure digital key which is used to decrypt one's signature using the public key. The digital signature of a person can only be authorized when the private key successfully decrypts the public key.
Advantages of E-Tendering
Instead of filing for a tender in paper format, information can be uploaded and stored online which can also be used for future tenders.


Productivity increases as filing an e-tender is less time-consuming than filing conventional tenders. With your previous documents stored online, it becomes easier to re-apply for a tender.


By eliminating duplicate spending and saving costs related to paper-based processes, money can be saved.


When there are different agencies making buying decisions, electronic purchasing makes it easier to make a purchase.


For a quick e-procurement process, online transaction helps. The procurement cycle time among suppliers speeds up, allowing business to be carried out in a short period of time.
Applying for a Class 3 Certificate
Visit the edigitalsignature website and click the Digital Signature option


Fill in the required details


Make an online payment for your application


After the payment, the DSC registration experts will process your application


The DSC will be sent to your registered email-id within 2 hours.
Register With Us
In order to file for a digital signature certificate you can log-onto our website edigitalsignature.org. We are private consultants, certified by ISO providing registration for Class 2, Class 3 and DGFT digital signatures.

If you feel the need for an FAQ, you can look up our FAQ page on our website home-page.

Any complaints regarding your application, you can report it on our Complaint page. Once that is filed, the complaint can be tracked here.

Follow us on our facebook page : Edigitalsignature.org